CMDA Dance Class Description
Twinkle Babies  ( ages 18 months – 3 years old ) &  ( ages 3-4 years old ) is a 45 minute introductory dance class designed to containing ballet, tap, and creative moment. Young dancers will learn the basic steps while learning how to follow directions and imitate movement in a positive environment. Engaging music is used to get these little guys inspired to dance. The use of props of such as Twinkle bears and hula hoops, enable young dancers to use their imagination, creativity and, most of all, fun.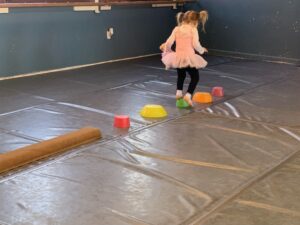 Twinkle Stars  ( ages 4-5 years old ) and  ( ages 5-6 years olds ) is  an age specific 60 minute dance class containing ballet,tap, and jazz/creative movement. The purpose of the class is to introduce young dancers to the three styles of dance and inspire movement and creativity within a positive environment. Dancers will also learn basic steps and terminology in all three styles of dance. For example, all dancers will learn what a "plie" is and how to demonstrate one.  The use of fun , age appropriate music engages the young dancers' minds and bodies. The use of props such as hula hoops for the "freeze dance" make the end of class the most fun!
The Show Stars™ Ballet program fosters musicality, body awareness and movement potential in a format that encourages individual artistry. Inspired by the work of Rudolf Von Laban and Irmgard Bartinieff, the class explores the elements of dance; Body, Space, Force, and Time, through creative exercises that are movement focused rather than story focused. The knowledge gained in these classes prepares the student for the attention to detail required in the study of formal ballet training.
Show Stars™ Jazz combines many styles and techniques from ethnic and contemporary dance, to ballet. Rhythm, upon which all dance forms depend, is particularly integral to jazz dance. The first half of class consists of exercises which stretch and tone muscles and develop support for proper stress ­free alignment of the skeletal structure. Using jazz, soul, R&B, ethnic and pop music, jazz classes are a great workout and a fun way to release tension while attaining a body awareness.
Show Stars™ Tap is an exciting rhythmic exercise and dance form which is enjoyable to both kids and adults. Rooted in African ­American History, tap offers a variety of styles and techniques. Students will realize results in dance movement after a minimum number of classes. The classes stress the basics of tap and allows dancers to build into combinations which are great to watch and delightful to hear.
Hip Hop
ages 4 and up. BOYS and GIRLS!
Hip hop is a fast, high energy type of dance seen in music videos and commercials. Beginners and intermediate class includes hip hop moves from the latest trends. Basic fundamentals are taught in the beginner classes and more challenging combinations in the intermediate and advanced levels. All movements will be age appropriate. Levels are at the teacher's discretion.
Acro
CMDA is an AcrobaticArts Certified studio!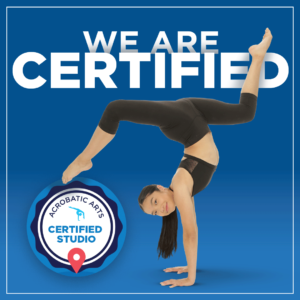 (Beginner  )
Acro class designed for dancers ages 4-7 that increases one's body awareness, coordination, balance and strength through acrobatics. Focusing on development in handstand balancing and basic tumbling skills – such as forward roll, cartwheels and bridge.
(Intermediate ) is designed for dancers age 7-11 with gymnastics/acro experience that increases one's body awareness, coordination, strength, coordination, flexibility, and body control.
(Advanced ) This class will benefit the student in their development of balance, speed, strength, flexibility, agility, and coordination. The use of proper technique, execution, good form, and safety will be stressed. Pre -requisites are cartwheels, backbends, handstands, and more
Lyrical/Contemporary
Lyrical is a blend of both ballet and jazz techniques. Dancers will learn to express the message of the song lyrics through their movements. A BALLET requisite is required.
Vocal Lessons
This class is designed to introduce children to the proper techniques in singing. Students will learn proper breath control, vocal position and ear training in a fun and supportive setting. Students will prepare musical selections for their age, intended to perform that are appropriate.